Plaques Progressed
The Bi-centennial Festival to celebrate John Dalton's historic paper to the Manchester Literary and Philosophical Society (ML&PS) provided an excellent focus to erect some heritage plaques in Manchester.
With an excellent cooperation between the Royal Society of Chemistry and the ML&PS four plaques were unveiled – three of which were sponsored by the Royal Society of Chemistry.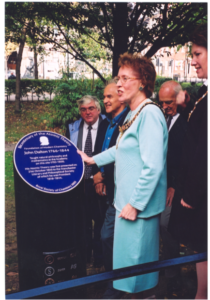 The first occurred on Tuesday 14thOctober when the Lord Mayor of Manchester, Councilor Audrey Jones and Professor Sir Harry Kroto unveiled a plaque in the Manchester Peace Garden to commemorate the site of the Academy at which John Dalton taught natural philosophy and mathematics (see photo).
The second unveiling occurred on an easel outside the Hong Kong restaurant in Faulkner Street, Manchester, which was the site of one of the houses he lived in. This plaque was sponsored by Diana Leitch at the John Rylands Library, University of Manchester. The plaque was unveiled by Professor Arnold Thackray, the President of the Chemical Heritage Foundation, Philadelphia, USA on the exact bi-centennial date of Dalton's paper. A last minute hitch in securing the final approval for fixing this plaque has resulted in a minor delay to it being mounted on the wall and this is due to happen in January together with others mentioned below.
The 3rd and 4th plaques were unveiled at the same time by Dr. Adam Hart-Davis, dressed in his own inimitable style, starting with a plaque to Thomas Henry, who was an early co-worker of Dalton and introduced him to the new chemistry of Antoine Lavoisier. The plaque is in the entrance doorway to 40 King Street which was the site where he lived. After an amiable stroll through St Ann's passage and to the musical strains of a local busker, thesecond plaque was unveiled in recognition of the birthplace of William Henry, a colleague and co-worker of John Dalton, and is sited at 17 St Ann's Square, Manchester. The unveiling of all these plaques was attended by representatives from the Royal Society of Chemistry and the ML&PS.
Further plaques already manufactured, sponsored by the RSC, and ready to be fixed early in the New Year are to Ivan Levinstein, Robert Angus Smith, Edward Schunck, and Frederick Grace Calvert. An update on these and two approved RSC Landmark Heritage Plaques to be erected at the Blackley Works and the Winnington Laboratory will appear later this year. Hopefully you will all feel that, although a little slowly at times, some progress has been made.My thanks go to Mr. Gerald Hayes without whose dedication to this project, we would not have made this level of progress.
Professor John Leach,
Head of Department of Chemistry and Materials,
Manchester Metropolitan University