Hexagon House, Blackeley
Dr Ilesh Bidd and Dr Richard Pike look on as Brian Lorenzini unveils the Hexagon Site Landmark Plaque
On 31 July 2006, Chief Executive Richard Pike presided over his first Chemical Landmark ceremony when the RSC awarded Hexagon Site (formerly Avecia) landmark status to commemorate over two hundred years of dyestuffs production and development at the Blackley Site, in north Manchester.

Unveiling the plaque, Mr Brian Lorenzini, Avecia Headquarters Site and Property Manager, said that although there had been a delay in arranging the Landmark ceremony due to the restructuring and divestments of the Avecia businesses, they were delighted to be receiving the award in the same year that the dyestuffs industry was also celebrating the150th anniversary year of the discovery of the first synthetic dye, mauveine, by Sir William Perkin.
Dr Ilesh Bidd, Vice-President, Research and Technology, Fujifilm Imaging Colorants Limited, gave an enthralling presentation entitled 'From Dyestuffs to Diversity' tracing back the origins of the Blackley dye industry through to today's businesses on site. A fascinating fact to emerge was that 'Turkey Red' dye came from the translation of the red dye from India (d'inde) into the French dinde or turkey in English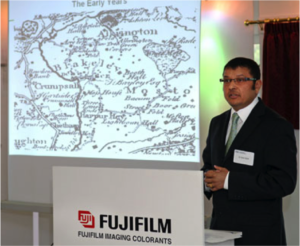 Dr Ilesh Bidd gave a presentation about the history of the dyestuffs business at Blackley to the present day
Hexagon Site is the sixteenth Chemical Landmark awarded by the RSC
The plaque will be on display in the foyer of Hexagon Tower on the Hexagon Site. The wording reads:
Hexagon Site
This plaque recognises Hexagon Site as a Chemical Landmark.
Since 1786, this site has been at the heart of dyestuffs development and production in the UK.