Prof Edward D Hughes and Bangor University
Bangor, North Wales Oct 23, 2009
An application for the Chemical Landmark was made by the North Wales Local Section. The application was for major contribution to the development of kinetics and mechanisms in organic chemistry by Prof Ted Hughes and for Bangor University and Chemistry celebrating its 125 years anniversary. The support and information from staff in Chemistry at Bangor was much appreciated.
The Chemical Landmark Ceremony was part of the Chem 125 celebrations, Oct 22/23, at Bangor University comprising an open day, displays, shows, a Commemorative Book launch (www.bangor.ac.uk/chem125) and a superb lecture by Prof Sir John Meurig Thomas. The RSC was represented by Prof David Philips, Council member and President-Elect, by Pauline Meakins, Landmark co-ordinator and by many Local Section members.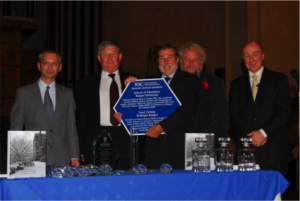 Prof Philips presented the Plaque to the Vice-Chancellor, Prof Merfyn Jones and to Dr Mike Beckett, Acting Head of Chemistry.
Prof Ted Hughes was a trailblazer in kinetics and mechanisms in organic chemistry. As a researcher in the period, 1928-63, Hughes' work changed the aspect of organic chemistry by progressively replacing empiricism by rationality and understanding. Hughes was a long time colleague and friend of Sir Christopher Ingold, equally recognised for this area.
Hughes and Ingold introduced the mechanism terminology of Sn1, Sn2, E1 and E2 to organic chemistry in the mid 30's and behind this was a multitude of carefully planned reactions, a talent that Hughes possessed. The understanding that Hughes and often, but not always, Ingold developed on substitution and elimination will be core to every first/second year university chemistry course across the world
Hughes, son of a farmer, was born near Criccieth, in Gwynedd, close to where David Lloyd George was brought up. His first language was Welsh and was educated at Llanstumdwy Elementary and Porthmadog County Schools. He graduated with a 1st Class Honours in Chemistry at UCNW, Bangor and obtained his Ph.D. also from Bangor in 1930 with Ingold as the external examiner. During this period, under the Leadership of Prof  K Orton, Bangor was one of the finest centres of physical chemistry in the world (see 'Chemical History', C Russell and G K Roberts).
He joined Ingold's new group at University College, London (UCL) where he stayed until 1943 when he was appointed to the Chair of Chemistry at Bangor.
Hughes developed an active research programme at Bangor and the best known work during this period was the development of a method for isolating isotopically enriched water from natural water by continuous fractional distillation. This technique yielded 18-O enriched water that could be used to trace the fate of particular O atoms in a substrate molecule undergoing reaction and thereby elucidating the mechanism of the reaction. We understand that this was the first time 18-O had been separated by distillation in the UK and would have opened the door to enormous advances in Chemistry, Biology and Nuclear Physics.
During his tenure at Bangor, Hughes maintained his collaboration with Ingold by his appointment as Honorary Research Associate at UCL. It is also worth noting that Ingold spent the time during the 2ndWorld War at the University of Aberystwyth.
In 1948, Hughes moved back to UCL to a Chair in Chemistry where he remained until his death in 1963, aged 57. He was elected a Fellow of the Royal Society in 1949.
While Hughes was dedicated to Chemistry, he had a love of breeding and racing greyhounds. When he died, he left a wife, a daughter and 57 greyhounds.
Ted Hughes must surely be one of Wales' most eminent and productive chemists. The names of Hughes and Ingold are giants in organic chemistry and Bangor University was a key location along this journey. A true Welshman, born and educated in Gwynedd, Hughes' contribution to organic chemistry would be well recognized by an RSC Chemical Landmark being designated at the Chemistry Department at Bangor University.
The Landmark recognition recognises both Prof Ted Hughes's contributions and the 125 year history of Chemistry at Bangor. This is the first such recognition in Wales. Being bilingual, it is also the only Landmark to contain the Welsh language. Bangor University has a strong tradition and current strength in bilingualism with Chemistry and many other Schools at Bangor providing such facilities. Bangor School of Chemistry was recently awarded a Welsh Medium Fellowship for sustainable Welsh Medium delivery of Chemistry courses.
The whole day, Oct 23, was truly outstanding with about 200 people present and the Chemical Landmark presentation was one of the highlights.
Dr E Malcolm Jones, Secretary, Local Section
Dec 7, 2009