Catalyst Science Discovery Centre                    
The work of Charles Suckling and his team was honoured at a Chemical Landmark ceremony at Catalyst Science Discovery Centre in Widnes, on Saturday 22 October 2011. 

Whilst working at the ICI General Chemicals Research Laboratories in Widnes, Charles Suckling and his team developed an inhalation anaesthetic called halothane which, between the early 1960s and the 1980s, became the world's most successful and most used anaesthetic.
Presenting the award, RSC Executive, Professor Paul O'Brien said "Although the actual laboratory where halothane was developed has sadly been demolished the RSC are proud to award the plaque to Catalyst as this building was close to the site and was also used by ICI as the Tower Laboratory. Catalyst now houses all the ICI research papers on the discovery."
The plaque was formally presented to Dr Jenny Clucas, Cogent Strategy Director for Chemicals and Petrochemicals and Trustee of Catalyst, before being unveiled by Professor Colin Suckling.
Dr Jenny Clucas said "It is a great honour to accept this award on behalf of Catalyst in this, the International Year of Chemistry and I am delighted that Professor Colin Suckling, son of Charles Suckling and his family were able to join us on this special occasion. The breakthrough that the team made here in Widnes, helped to revolutionise surgical procedures across the world and Catalyst will be thrilled to display the blue plaque on the front of the building."
As a tribute to the work undertaken by Charles Suckling and his team, Catalyst has installed a permanent exhibition about anaesthetics, the development of halothane and the impact that it had across the world.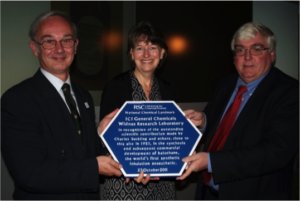 From L-R : Prof Colin Suckling, Dr Jenny Clucas and Prof Paul O'Brien